In this episode of the Love Thinks podcast, Dr. John Van Epp and Dr. Morgan Cutlip sit with Tricia Fox and Dave Ransom who are a married couple of two young children. 
Dave and Tricia share their experience transitioning from a couple to parents. They share relatable moments and struggles and also how they navigated through growing stronger and more connected.
Some of the main takeaways include: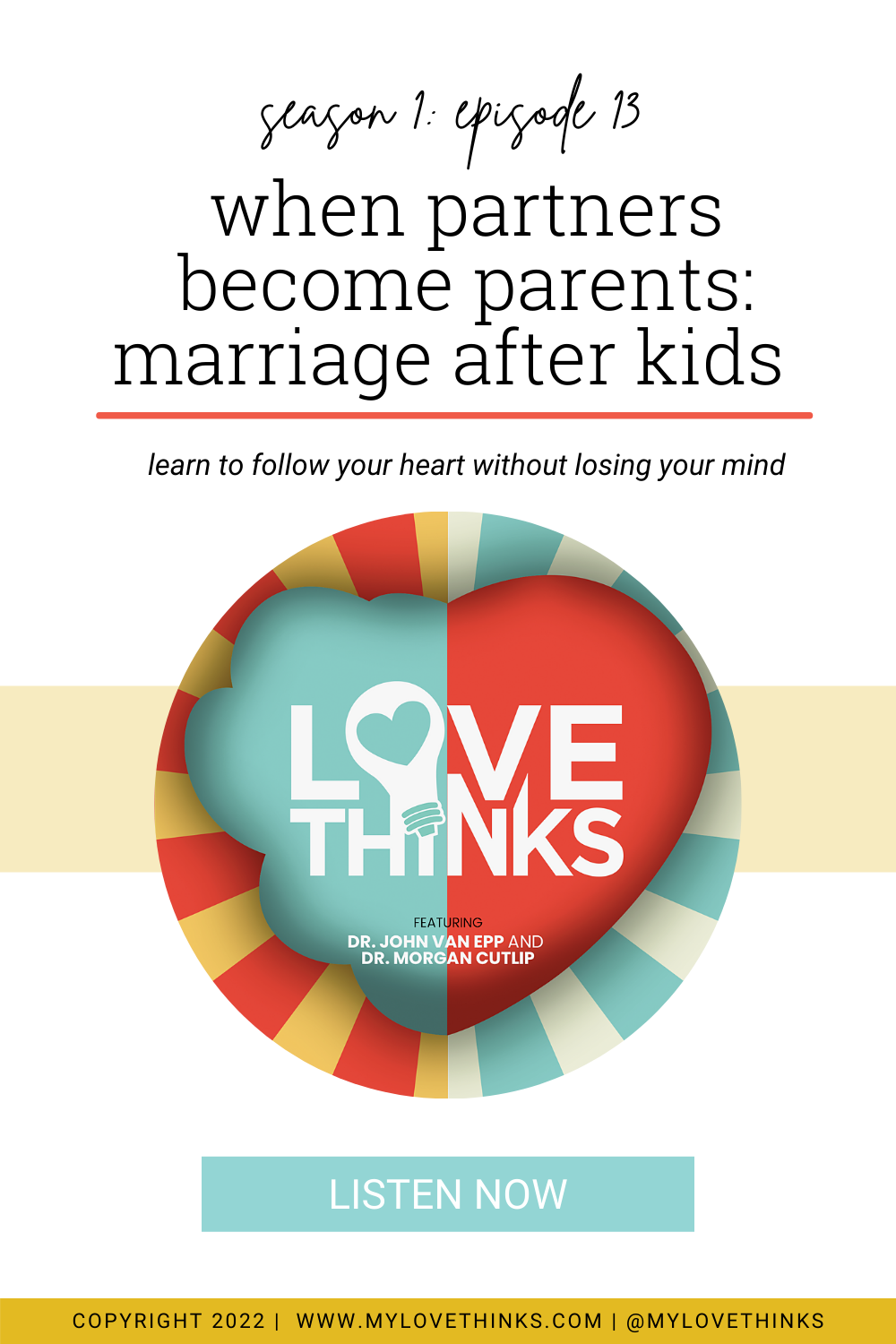 1.You may struggle to connect with your child immediately
Dave shared his shame and struggle around feeling a lack of immediate connection with their children when they were first born. He normalized something that is a common experience for parents which is that when you, your partner, and your life are undergoing such a massive transformation, it can be hard to experience the joy and connection immediately.
Dave shared how his shame started to dissipate after confiding in a friend who had the same experience.
Listeners should know that this lack of immediate connection is so common among parents. Birth can be traumatic, having a colicky infant can be draining, and the adjustment to becoming a parent can be jarring. 
2.Be generous to one another
One of the most beautiful parts of the episode was how Tricia and Dave shared about how they both held space for one another and their experiences.
Tricia was experiencing postpartum depression following a traumatic birth and Dave was struggling with his own issues transitioning into parenthood. They both allowed opportunity for one another to be heard and supported each other in the ways they could given their own feelings of depletion.
3.Call on skills and support
Tricia and Dave shared about how they enlisted professional help and attended both individual and couple's therapy.
They learned that they could develop the skill of offering grace to one another. And a renewed perspective that the bumps and struggles felt during a transition don't mean that the relationship is forever doomed, but rather that they can use these difficult times to build resilience in their relationship and deepen their knowing in one another.
What else is there?
Tricia is a singer-songwriter and wrote an entire album about her experience becoming  mother. Tricia and Dave also wrote a duet about this time in their marriage. You can learn more about Tricia on her Instagram or listen to their song here.
To learn more, and hear about what may be necessary to maintain a relationship with someone you "agree to disagree" with make sure to listen to the full episode.
We hope you listen, subscribe, and review the podcast.  If you want to apply to be a guest on the podcast, we'd love to hear from you.